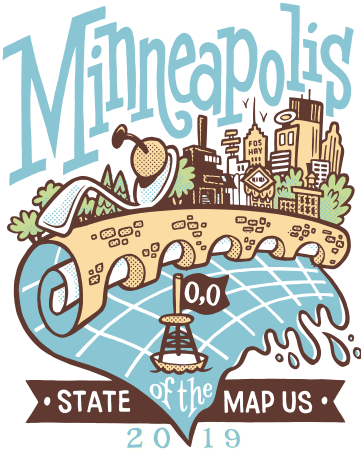 Lightning Talks
Johnson
Friday, 2:15pm – 5 minutes
Jennings Anderson, Mike Meyer, Michelle I. Albahae, Marc Farra, Matthew Darwin, Christopher Beddow, Frank Moran, Madison Draper
Corporate Editors in the Evolving Landscape of OpenStreetMap
Jennings Anderson
OSM is characterized both by its map as well as the active community of the millions of mappers who produce it. Recently, many large corporations have been hiring editors to contribute to the OSM database. We recently explored the influence these corporate editors are having on the map by first considering the history of corporate involvement in the community and then analyzing historical quarterly-snapshot OSM-QA-Tiles to show where and what these corporate editors are mapping. We found that cumulatively, millions of corporate edits have a global footprint, but corporations vary in geographic reach, edit types, and quantity. While corporations currently have a major impact on road networks, non-corporate mappers edit more buildings and points-of-interest: representing the majority of all edits, on average. Corporate editors represent just the latest stage in the evolution of corporate involvement. We therefore raise questions about how the OSM community—and researchers—might proceed as corporate editing grows and evolves as a mechanism for expanding the map for multiple uses.
Teams! Teams! Teams!
Marc Farra
In this session I'll give a quick run-through of building an OAuth2 identity layer on top of the OSM login. I demonstrate OSM teams, an api you can integrate with to read, create, and modify lists of mappers. These teams will then sync automatically across the entire OSM ecosystem.
Mapping Rural Communities with the Canadian Red Cross Missing Maps Pilot
Matthew Darwin
When communities experience an emergency, knowing the location of community infrastructure, vulnerable areas, and people will improve disaster planning, response and recovery. Missing Maps is an initiative to build a comprehensive open map of the world by supporting communities in putting themselves on the map. In Summer 2018, the Canadian Red Cross launched a pilot to work with community members in order to assist communities to create and manage digital maps of their area to incorporate local expertise and directly support emergency preparedness using OpenStreetMap. The Missing Maps initiative provides an opportunity to map the large parts of Canada that remain unmapped or poorly mapped. This talk will introduce the pilot, its initial outcomes and some of the challenges experienced when mapping rural communities in OpenStreetMap.
Source=Mapillary
Christopher Beddow
Mapillary provides both street-level imagery as well as map feature point data for use in OpenStreetMap. Using the open source MapillaryJS library and the Mapillary API, several developers have integrated these data sources into OpenStreetMap tools in new ways since 2018. This includes OSM iD, Pic4Review, Osmose, and Deriviste. We'll explore these integrations, what their pros and cons are, and think about where to go next.
Open Street Map Across Grades & Subjects
Mike Meyer, Michelle I. Albahae
This session will discuss the implementation and application of OSM in both High School and Middle School Geography/AP Human Geography courses.
Confessions of a Nervous Geography Student
Madison Draper
In college, I studied human geography, mastering the craft of the written word. During junior year, I took my first web mapping course and I froze: What's a GeoJSON? What's the difference raster and vector tiles? Why am I writing code instead of essays? And, most blaringly, how will I ever get a job in this? 3 years later, I've TA'd in 2 mapping labs, co-founded a web cartography course, taught mapping workshops and landed an engineering and design job at Mapbox. This talk will dive into the hardest parts of transitioning from the humanities to GIS and how I've used that experience to shape how I teach technical mapping concepts to non-technical students.
Q&A